Eleding EE810W-SH10 Solar Power Smart Cree Led Street Light for Commercial Residential Parking Bike Paths Walkways Court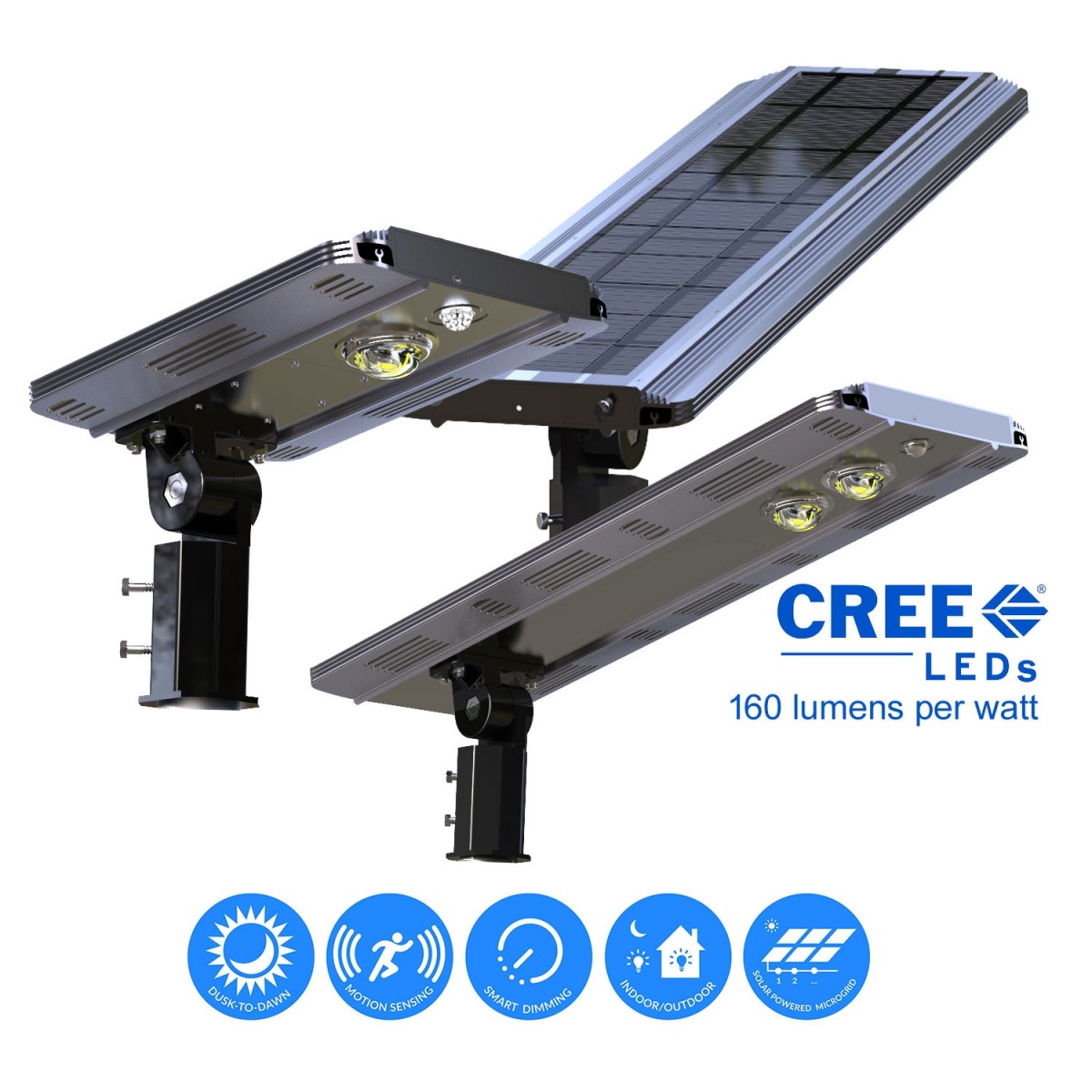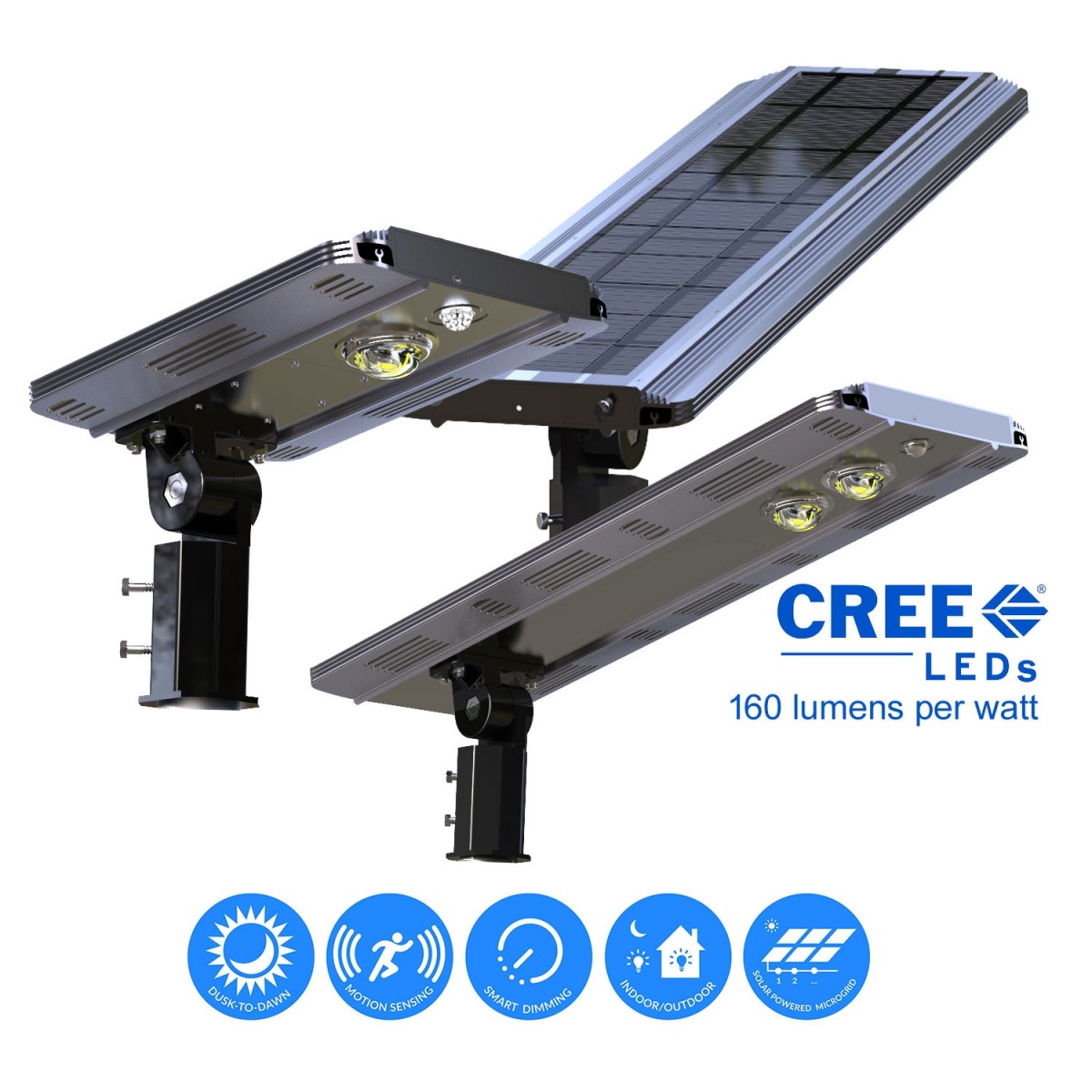 Our Price:
$211.76
You Save $74.12 (35.00%)
---
Manufacturer Part #: EE810W-SH10
Lead Time: 1 Day
Size: 17 x 14 x 7 inches
Lights & Lamps Power Source: Solar
Estimated Shipping Cost: $14.80
EE800W-SH series, Solar Powered CREE LED Street Light up to 2000+ LM, with 360 ePIR Sensor, selectable dual SMART modes. Designed and built for a wide range of lighting applications such as Commercial and Industrial Buildings, Parking Lots, Street, Pathway Lights, Play Ground, Farms, Parks and large area Residential and Recreational lighting. This high quality built and very durable light is completely self-contained. It is made from a sturdy cast aluminum alloy light fixture with an integrated industrial standard tempered glass solar panel, ultra-bright Cree LED and user adjustable SMART modes. It can be used for new installations or replacement of outdated AC powered or solar lights. Its innovative SMART lighting profiles offer true Dusk-to-Dawn all night lighting capability. It offers flexibility with auto compensation for critical weather and variations of geographic locations and it is able to automatically manage critical status of battery. eLEDing SMART solar lights present a significant improvement above current solar lighting performance operating with its Intelligent Power Management (IPM) System. It provides user adjustability in controlling Max Brightness and Dimming Moonlight soft-glow illumination as saving profile. An ultra-efficient and very powerful Commercial Light using renewable Solar Green Energy. A highly reliable and compact eLEDing unit designed and engineered for outdoor lighting solutions.
Ee800W-Sh Series, Solar Powered Cree Led Street Light Up To 2000+ Lm, With 360 Epir Sensor, Selectable Dual Smart Modes. Designed And Built For A Wide Range Of Lighting Applications Such As Commercial And Industrial Buildings, Parking Lots, Street, Pathway Lights, Play Ground, Farms, Parks And Large Area Residential And Recreational Lighting. This High Quality Built And Very Durable Light Is Completely Self-Contained. It Is Made From A Sturdy Cast Aluminum Alloy Light Fixture With An Integrated Industrial Standard Tempered Glass Solar Panel, Ultra-Bright Cree Led And User Adjustable Smart Modes. It Can Be Used For New Installations Or Replacement Of Outdated Ac Powered Or Solar Lights. Its Innovative Smart Lighting Profiles Offer True Dusk-To-Dawn All Night Lighting Capability. It Offers Flexibility With Auto Compensation For Critical Weather And Variations Of Geographic Locations And It Is Able To Automatically Manage Critical Status Of Battery. Eleding Smart Solar Lights Present A Significant Improvement Above Current Solar Lighting Performance Operating With Its Intelligent Power Management (Ipm) System. It Provides User Adjustability In Controlling Max Brightness And Dimming Moonlight Soft-Glow Illumination As Saving Profile. An Ultra-Efficient And Very Powerful Commercial Light Using Renewable Solar Green Energy. A Highly Reliable And Compact Eleding Unit Designed And Engineered For Outdoor Lighting Solutions.
Features
Smart-on profile for lighting adjustments based on geographic location, overall round sunlight conditions, and optimization of lighting performance with built-in auto-compensation of energy power management
High quality made components to extend operating ultra-long life cycles: Super bright USA CREE LED, Zilog MCU, Ixys FETs, ePIR sensor and Tempered glass solar panel and cast Aluminum alloy light fixture.
Super Bright 10W CREE LED provide up to 1600 lumens on peak, (compares with 130W bulb illumination). Highly Intense Outstanding Illumination Coverage up to 40' x 40'
User adjustability of Max-Brightness and Dusk to Dawn Dimming to overcome the local poor weather in seasons. SMART feature built with Motion Activated Profiles / Dimming mode. DIY capable, Outdoor weatherproof IP65
Invented (Patented Technology), Designed, Developed, Engineered and QC'd in USA
Specifications
Color: Grey
Dimension: 17 x 14 x 7 inches
Weight: 15
You May Also Like